"To arrive at a contradiction is to confess an error in one's thinking; to maintain a contradiction is to abdicate one's mind and to evict oneself from the realm of reality". Ayn Rand
During his State Visit to Ghana, many Africans felt that America, President Barrack in particular, understands Africa that Africans want. In his remarkable remarks that included that "Africa's future is up to Africans," and that "Development depends upon good governance", many, myself Rwandan included kept a utopia that the African Black American President, Mr Barrack Hussein Obama, can critically contextualize the African issues.
Yes, definitely he can, but the recent US positions to Rwanda's developments proved to be embodying significant discrepancies.
The recent statement issued by John Kirby, US State Department spokesman said that the US was "deeply disappointed" by President Kagame's decision to run for re-election in 2017. Earlier the EU Foreign Policy Chief had said in a statement that the constitutional reform process in Rwanda undermines the principle of democratic change of government".
However, Rwanda's President's acceptance, now locally popular as "I can only accept", came when the constitutional referendum had been voted by more than 98% of Rwandans.
In addition, the constitutional referendum process arose after a petition calling for Article 101 of the constitution to be amended gained over 3.7 million signatures, equivalent to over 60% of registered voters in Rwanda. Later, the constitutional amendments were also approved by the relevant institutions in the country.
Clearly, two sides have come into the play: the western political actors who felt a disappointment caused by a decision by Rwandans to propose to amend the constitution and by the President Kagame's " I can only accept".
However, in international relations, there is nothing wrong with any political actor to express any view or feeling like a disappointment over a decision of another State. But, it is difficult to understand the disappointment feeling those actors have over the national sovereignty of Rwanda and the President Kagame's acceptance, which also came as a yes answer to the peoples of Rwanda's choice.
In the view of many, and mine particularly, the US statement, is so questionable at least for many of us who are conversant of what should be the essence of the Westphalian Sovereignty in our world's modern era.
Of course, a disappointment always comes after a failed expectation. Recently, many in the world, were disappointed by the United Nations Security Council's failure to resolve on Burundi crisis, when Diplomats from Russia and China blocked a proposal to intervene in Burundi, arguing that it's not the business of the U.N. Charter to get involved in constitutional matters of sovereign states, while acts of genocide are until today being committed by the current regime in that African State.
Clearly, this shows the level of conflict of interest between international relations actors' intent and their resolutions or positions: in some cases like the Rwandan referendum case, positions were issued when they were not necessary while in some other cases like in Burundi a resolution to intervene to stop acts of genocide was blocked when it was so necessary and urgently needed.
Rwanda is rational state actor whose choices and decisions are based on first of all its goals, priorities and strategic options, secondly national interest maximization mingled with a foresighted assessment of consequences.
In the unique history of Rwanda, Rwandans know where they have been and where they have reached today.
Observably, Rwanda's goals and priorities are embodied in the consolidation of the achieved peace, stability and prosperity. These were achieved through the service of different stakeholders, particularly President Kagame who discharged them with dignity, determination and distinction.
In some situations in politics, solutions which worked better or service providers who served well the purpose of a nation are not worth rejecting. In Rwanda, the constitutional referendum and the President "Can only accept" constitute a strategic option to the goal and priorities of Rwanda for its better future and survival.
If this is not acceptable to all, Chancellor Angel Merkel would not be campaigning for the 4th term, Tony Blair would not have led England for 12 years, Lee Kuan could not have prevailed for almost 40 years, etc.
Additionally, Rwanda has interest to protect at maximum. Apart from its struggle for its internal successful thrival, Rwanda has to challenge any disturbance from abroad, in the region or anywhere else.
As reiterated by President Kagame during the Interpol conference in Kigali, "security is the foundation for everything". Rwanda knows for example how the indecisive behavior of the international community has been giving a fertile ground to an almost security dilemma situation in the Great Lakes Region.
As matter of fact, the conspiracy of the international community on FDLR; the tolerance of their free movement in the region, their integration into the armed forces for neighboring states with intention to destabilize Rwanda are clear indications that Rwanda should not welcome any foreign actors' positions due to the anarchy they can made to prevail locally.
Miracles are no longer happening; our era is not like the times when the people of Israel were crossing from Egypt to God's Promised Land. That time Moses stretched out his hand over the sea; and the Lord swept the sea back by a strong east wind all night and turned the sea into dry land, and so the waters were divided. Then the sons of Israel went through the midst of the sea on the dry land, and the waters were like a wall to them on their right hand and on their left.…"
Like anywhere else, in the Rwanda of today, everyone has a share of efforts invested in the good progress of the country but President Kagame owns a special share into that and Rwandans are in full awareness about it.
So, should any foreign actor's position make Rwanda depart from their journey for survival? NO.
Definitely, none among Rwandans is under any illusion that good choices are every time pleasant to all. Non-compliance with some positions of other people can attract sanctions, aid cuts, etc.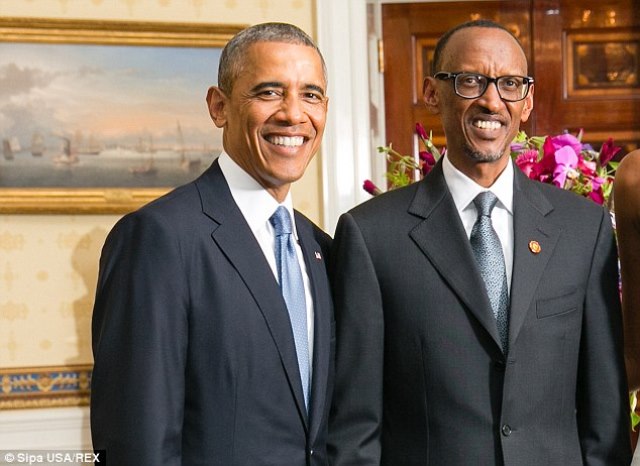 President Kagame and Obama before the referendum

In Rwanda almost everything is done after a foresighted assessment of consequences. Rwanda has been deciding to take some risks whenever felt it was right. Contrary to the idea of the recent East African article that "Rwanda looks East after changing term limits", it should rather be emphasized that any responsible state should never confines its foreign relations policy to one part of the World; the West.
Like other states, Rwanda's decisions for its future are outsourced from different school thoughts, but for the purpose of today's' write up let me emphasize on something that is central to politics of nations, which also matters a lot in the politics among nations.
However great is to accentuate mutual benefits through international cooperation, the protection of national interests and respect of the will of the people bind and shape Rwanda's preferences most in its journey of resilience towards the future.
"The battle you are going through is not fueled by the words or actions of others; it is fueled by the mind that gives it importance." ― Shannon L. Alder
Emmanuel-Kigali